Broke Mama
11.03.10
I don't know anything for sure yet but I have heard Amazon.com diaper coupons are back in the November issue of Parenting magazine. I haven't paid for diapers in months! Thanks to these coupons and Swagbucks. Swagbucks are awesome!!! You get paid for using their search engine. Really you don't have to buy anything!!! Every 450 Swagbucks gets you a $5 Amazon.com gift card. Let's not forget Amazons subscribe & save with amazon mom. Thats 30% off + free shipping.
Formula coupons are GREAT!!! I sign up online for Similac, Good Start, & Enfamil coupons. The sale them on Ebay for almost cost!
They say diapers.com is great, but I think there just a waste of time. I sold my referral code on Ebay over a 100 times. Never once have I got anything for it. They make it impossible. I believe best I can tell the people who used my referral code, have to refer some one else then I get $10. WHATEVER! Too much crap.
Tryin to figure out how to make money off this blog. I'll figure that out one day…
Check out huggiesenjoytheriderewards.com free diaper & wipe coupons are finally back
11.06.10
Yes, yes, yes They really are back!!! Diaper coupon are back!!!!!
Only thing is all I have been able to find so far are y's. If you know anything about the last time, you know they were stackable but the first letters of the codes had to be different.
Anybody Know anything else????????
11.20.10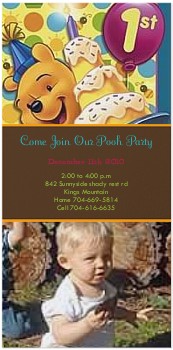 Silly Streak Chocolate Birthday
Check out Garrett's Birthday invitations Shutterfly.com  is awesome!!!
01.02.11
Just so you know I was supposed to get a $25 gift card to shutterfly.com for posting this NEVER DID!!! Oh well still love em anyway…
Well December had Amazon diaper coupons too.  All Y coupons tho
They don't expire until 1.31.11 I have tons of em more than I'll use. There not going for much on eBay this time for some reason. I'll probably do something here to give some away…
Any ideas???